Hello Humble Stackers! Welcome to our blog, we post company updates and selected Bitcoin stories here. Maybe even some new deals and special offers too!
The mobile browsing experience has just been upgraded by the Kiwi browser's unique capability to support Chrome Extensions on Android devices. This blog dives into how to take advantage of this feature, to make sure you never miss a free satoshi when shopping on your mobile.
The Kiwi Browser x Chrome Extensions on Mobile
Originating as a project to make mobile browsing faster and more user-centric, the Kiwi browser stands out in the crowded arena of mobile browsers. Its unique feature? The ability to natively support Chrome Extensions.

Extensions enhance the browsing experience by adding functionality and customization options. While desktop users have enjoyed this for years, mobile users can now experience the same benefits. For instance, the Satsback.com extension, normally enjoyed on desktops, can now reward mobile users on-the-go with sweet satsback rewards.
Step-by-Step Guide: Installing the Satsback.com Extension on Kiwi Browser - only available on Android for now
a. Downloading and Setting up the Kiwi Browser on Android
- Head over to the Google Play Store and search for "Kiwi Browser" or visit kiwibrowser.com.
- Download, install, and open the browser. Initial setup is intuitive, and offers customization options right from the start.

b. Open Satsback.com and login to your account

c. Installing the Satsback.com Extension
- Goto the Satsback.com Browser Extension or find it in the Google Web Store.
- Click on "Add to Chrome," and follow the installation prompts.
- Click "Synchronize account information" and voila!

A popup will show every time satsback is available. You're now set to earn satsback directly on your mobile!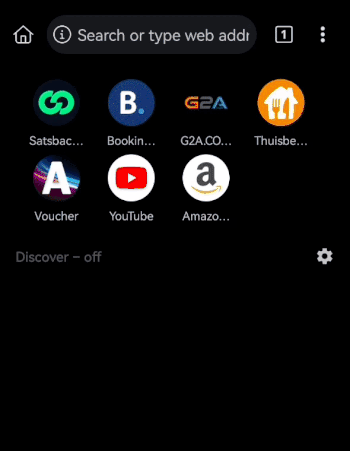 Tips for a Smooth Experience with Satsback.com on Kiwi
- Always ensure the extension is optimized for mobile view.
- If facing any issues, clear the browser cache or restart the browser. Most issues are resolved this way.
- Install mobile app versions of your favorite merchant like Booking.com or Takeaway.com; You will be redirected to the mobile app after clicking "Activate ... satsback" for most merchants.
Stay Humble and Stack Sats
Leverage the power and flexibility of the Kiwi browser along with the Satsback.com extension to redefine your mobile browsing on Android. Dive into the seamless Satsback experience and get rewarded in sats every time you engage with a partnered merchant!